Let's visualize a scenario, your sister is getting married in Delhi and your frail old grandmother stays in Mumbai. Her health condition wouldn't
permit her to travel to Delhi to bless her dear granddaughter on her special day. If this had happened 20 years ago, then she would have had to
be happy with the printed photos which would arrive at least ten days after the marriage ceremony. What if we say that the grandmother can
participate in the wedding ceremony while sitting comfortably at her Mumbai residence without having to undertake the long arduous journey.
Sounds incredible, right?? Well, it's very much credible today. Modern computing technology and high end photography with 360 degree cameras
have joined hands to bring to you a stellar new experience where you can virtually enjoy an event happening far away from you. That's the magic
of Virtual Reality and 360 PHOTOGRAPHY
Virtual reality (VR) is a computer-generated experience in which a person uses electronic devices like special glasses, headsets and hand held
devices to virtually participate in the digital world. VR is of a number of types such as non-immersive, semi-immersive and fully immersive.
In non-immersive VR, you are interacting with the virtual world but the virtual world isn't directly interacting with you. In semi-immersive VR, you can
move around in the artificial world but the only sensation is visual in nature. In fully immersive VR, the surroundings are so very realistic that you
will feel as if you are actually present there and the events occurring in the virtual world are happening to you and Infront of you. Latest technology
coupled with high-tech gadgets such as sense detectors, body detectors, VR glasses, VR headsets are needed to bring alive the virtual world in
such a way that the line between real and virtual diminishes.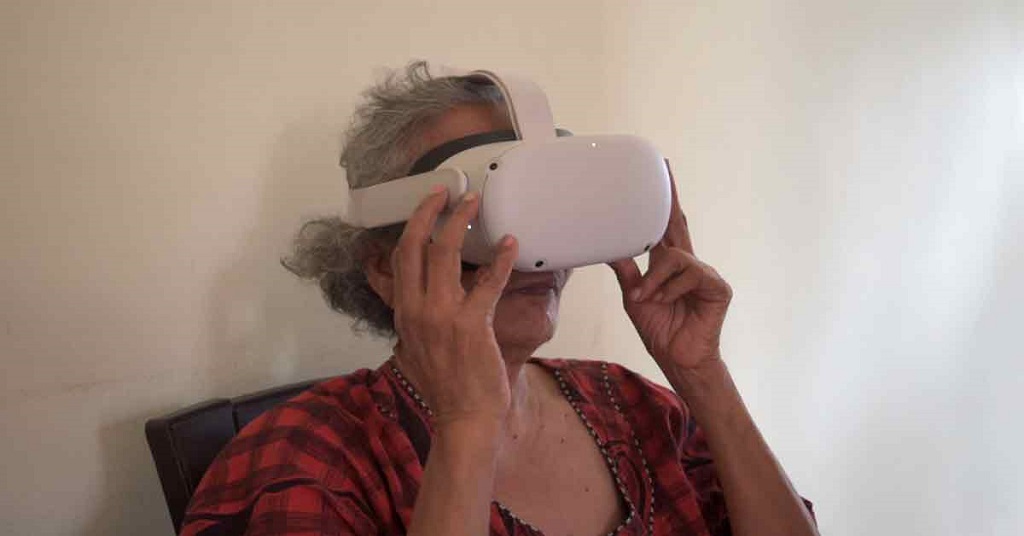 Photography has evolved in quantum leaps and come a long way since the days of black and white photos. Today, your field of view need not be
restricted to what is lying right in front of the camera, it can be a 360 o view of the entire surroundings. 360 o photography is an ingenious way of
getting the whole picture without having to move a limb. 360 o photography in conjunction with VR have a wide array of uses, ranging from tourism,
entertainment, realty sector, medical sector, training purposes to social events like weddings, birthday parties etc.
When we apply 360 o photography and VR to social events such as marriage ceremonies, sangeet, engagement parties, birthday parties, religious
discourses, seminars, training etc. we preserve your special moments for ever and augment the experiences further. The near and dear ones who
couldn't be physically present at the occasion can virtually experience the thrill of being there and enjoying the occasion parallelly or at a later
point of. Time when is convenient to them. To enjoy this unique experience, all one needs is a good internet connection and a few gadgets which
will bring alive the virtual world and transport you to the actual event as if you are seeing everything with your own eyes and feeling the vibes of
the event with your own senses.
So, whether it's for your grandmother who can experience her grandchild's marriage from far away or you wish to have a virtual darshan of the
Lord Ganesh or beautiful Ganga Arati at Varanasi or you want a recap of the college seminar on your favorite topic or maybe you want to go back
down memory lane and experience the thrill of your own birthday bash or a party you hosted from a few years ago, this technology will come in
handy for all your requirements.
360 degree photography india #360° PHOTOGRAPHY   #360  degree fashion photography#360 degree photography Mumbai  #360 degree landscape photography
#360 degree model photography  #360 degree product photography tutorial
#360 degree car photography  #360 degree photography app
#360 degree photography equipment   #360 degree photography tutorial
#360 degree product photography equipment #360 degree rotate images
#360 degree view   #360 degree wallpaper  #360 degree wallpaper for android
#360 degree world map #360 image online  #360 pano  #360 panoramic images download
#360 photo camera  #360 photo inc  #360 panorama free #virtual reality applications
#types of virtual reality  #virtual reality images  #virtual reality price
#non immersive virtual reality   #virtual reality box    #virtual reality movie