Worship of Shakti or Adi Shakti is prevalent in most parts of West Bengal, as a result a number of famous Devi mandirs can be found here. One
amongst them is Dakshineswar Kali Temple or Bhabatarini Kali mandir as it is locally called. Built by Rani Rashmoni, a famous zamindar and
philanthropist from Kolkata in 1855, this temple is an epitome of Devi worship and a place of tranquility.
Location – Dakshineshwar is situated 28km to the north of Kolkata city, in the district of North 24 Parganas. The Dakshineswar Kali Temple sits on the bank of River
Ganga and is well connected to Kolkata by road and rail both. The two railway stations of Dakshineshwar and Bally Ghat are close to the temple.
Apart from that, road connectivity is very good.
The temple story – Rani Rashmoni was a famous figure of 19th century Bengal, she was a powerful landlord, a great philanthropist, social activist
and a deeply religious lady. The Dakshineswar Kali Temple was established by her after she received a divine message in her dream. Rani
Rashmoni was about to embark on a pilgrimage to Kashi (Varanasi), but the night before the travel she had a dream that Ma Kali was telling her
not to go to Kashi, instead to set up her temple beside the Ganga. She was deeply impacted by this dream and immediately cancelled her
pilgrimage. Instead she bought a 20 acre plot of land at Dakshineswar village from an Englishman named Jake Hastie in 1847 and started the
construction of the temple.
The temple was completed in 1855 and its original name was Sri Sri Jagadishwari Mahakali mandir, later the name Bhabatarini Kali mandir came
into usage. The temple is built in the "navratna" style with 9 spires on the main temple. In Bengal, the image of goddess Kali is always seen with
Lord Shiva in a supine position beneath her feet and this idol also follows the same tradition. The two idols are placed on a thousand petalled lotus
throne made of silver. Goddess Kali is dressed beautifully in sarees and exquisite jewellery. The idol of Kali was installed on the day of Snana Yatra
of Lord Jagannath on 31st May 1855 and the head priest was Ramkumar Chattopadhyay. In a short while, his younger brother Gadadhar
Chattopadhyay, who is better known as Ramkrishna Paramhansha took over as the head priest of the temple. Ramkrishna Dev is counted amongst
one of the greatest mystics of India and his wife Sarada Devi also resided in the temple complex for quite a long time.
Within the temple complex, there are 12 Shiv mandirs built in "aat-chala" style along the banks of the Ganga. Rani Rashmoni was of liberal
disposition, as a result she established a Radha Krishna temple beside the Kali temple, emphasizing the fact that there is no clash between
followers of Shakta tradition and Vaishnavism. This temple draws huge crowds of devotees on a daily basis and on special occasions like Kali
pujo (Diwali) the numbers increase manifold.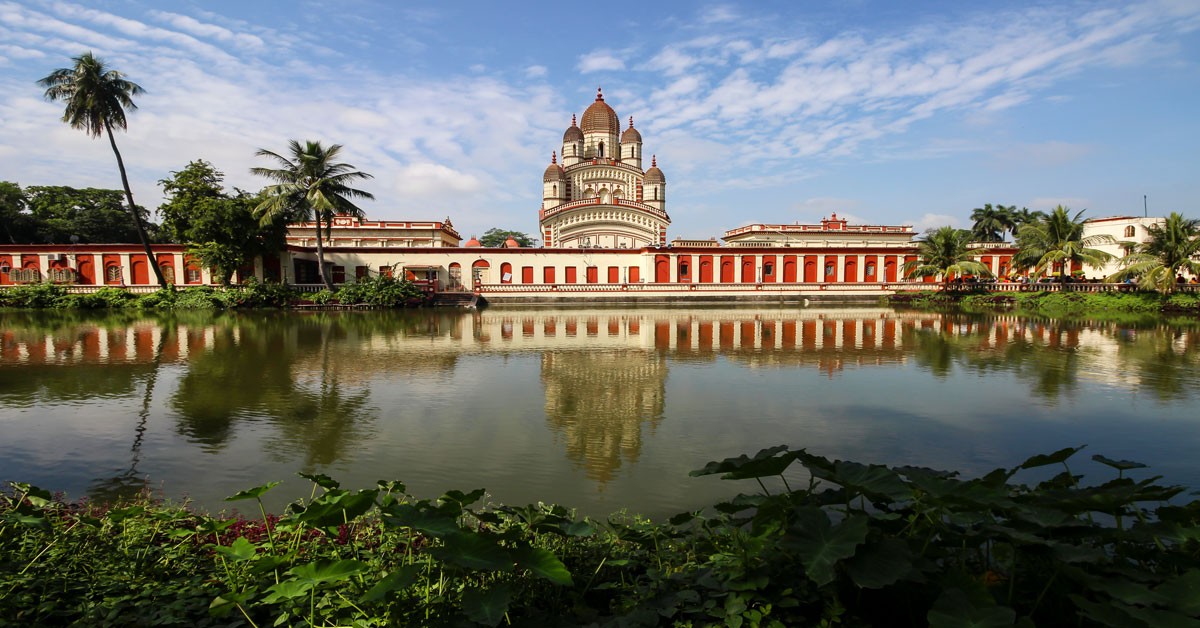 Things to do around – Kolkata being quite close to the temple, a visitor should make it a point of dropping in to the City of Joy. Famous landmarks
like the Victoria Memorial, Howrah Bridge, Second Hooghly bridge, National Museum, St. Paul's Cathedral are few of the many attractions in Kolkata.
Another very beautiful place which is very closely associated with Dakshineshwar is Ramkrishna Mission at Belur, also called Belur Math. Its located
just across the Ganga and can be reached by boat or by road. Both Dakshineshwar and Belur Math have a very peaceful riverside location which
lends them a spiritual as well as peaceful aura. Another beautiful temple dedicated to Goddess Kali is Adhyapeetha, which is quite close to
Dakshineshwar.
Kolkata is a foodie's paradise and one can savour the delicacies of Bengali cuisine along with multicuisine fare available all across the city.
Shopping options galore as do the things to buy from here, ranging from handloom sarees to jewellery, handicrafts, decorative items etc.
Accommodation options are few at Dakshineshwar but all ranges are available in Kolkata, from backpacker's hostels to 7 star resorts.
Also Read: POPULAR TEMPLES IN INDIA
     ———————————————————————————————————        Tourist Facilities        ——————————————————————————————————–
 ATMs in KOLKATA                          Restaurants in KOLKATA                Travel Agents in KOLKATA                   Resorts in KOLKATA
 Pharmacy in KOLKATA                  Bus Stands in KOLKATA                   Petrol Pumps in KOLKATA                   Garage in KOLKATA
Hospitals in KOLKATA                    Lodges in KOLKATA                          Police Stations in KOLKATA                 Nearest Airport in KOLKATA