The Saraswati temple is situated in Bellary district of Hampi in Karnataka state. Hampi was part of the erstwhile Vijaynagara empire and is
world renowned for its exquisite temple architecture, presently the area is designated as a UNESCO World heritage site. The Saraswati temple
standing on a huge rocky outcrop near to the octagonal bath is a fine example of Vijaynagara architectural style.
Location – The Saraswati temple is located about 13km away from Hospet which is the nearest railhead. The site of the temple is less
frequented by tourists so its quite a peaceful spot to explore. Cabs and buses are also available.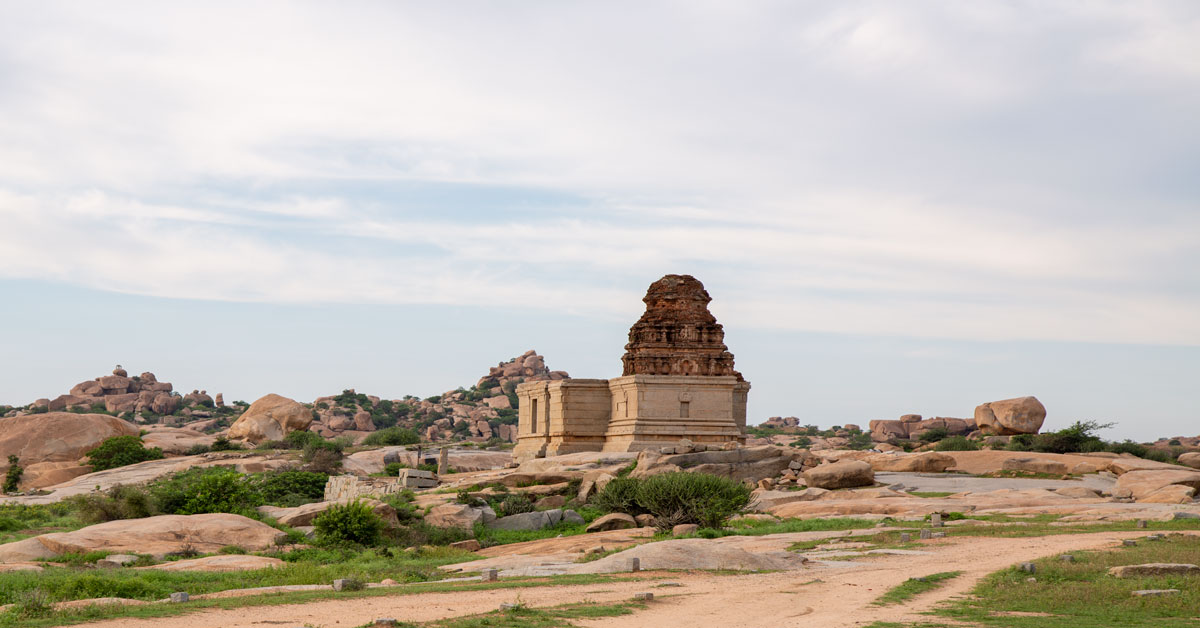 The legend & temple story – Saraswati Devi is the goddess of learning, intelligence and wisdom. She's believed to be the consort of Lord Brahma
and revered by people for achieving success in studies, music and wisdom. The story behind this Saraswati temple Hampi is quite fascinating. It was
built around the 13th century CE, the main temple doesn't have any idol but it gets its name from the beautiful image of Saraswati Devi carved on
a rock outside the temple.
The temple is mostly in ruins but the main shrine, sanctum, canopy and pavilions are in better condition, giving us an idea about the original
magnificence of the Saraswati temple Hampi. The pillars inside are decorated with stucco figures made of terracotta. The figure of infant Krishna crawling can still
be seen on the temple's tower. Some of the pillars show remnants of the original stucco carvings. The rock bearing the image of Saraswati has a
brightly coloured shrine built around it and stands opposite to the main temple.
Things to do around  – There are numerous beautiful temples in the area, which must feature on a traveller's itinerary who wants to witness the
magnificence of South Indian architecture & get to know Indian history. Some of the most famous ones are Virupaksha temple, Vijaya Vittala
temple, Hemakuta group of temples , Lakshmi Narasimha temple, Sasivekalu & Kadalakelu Ganeshas, Hazara Rama temple & Prasanna
Virupaksha temple.
The food being offered at the eateries around Hampi is mostly traditional South Indian vegetarian food like dosa, idli, sambar etc., but there's one
interesting local dish called "ragi mudde". Its basically a disc type of item made with ragi and rice flour served with a spicy curry made of banana
flowers. The dish is indigenous and not commercially popular as few tourists know about it. Accommodation in this heritage town is quite easy to
find and range from backpacker's hostels to hotels.
Shopping in Hampi area is quite an eclectic mix of things ranging from stone artifacts to cloth bags and inexpensive clothes. The stone artifacts
are mostly representations of the temples or statues of gods and make for good souvenirs. Lambani craft which is a type of handicraft made out
of brightly coloured cloth along with embroidery is also found here. Items made of leather and banana fibre are also popular items sold in the area.
Also Read: THE MAHALAXMI TEMPLE |  THE SIDDHIVINAYAK TEMPLE
  ——————————————————————————————————–         Tourist Facilities        ————————————————————————————————————
ATMs inHAMPI                                 Hospitals in HAMPI                             Nearest  Airport in HAMPI                                      
#hampi  #hampisaraswati  #unescoworldheritagesite  #karnatakatourism  #vijaynagaraarchitecture  #vijayanagaraempire  #indianhistory  #indianheritage  #devisaraswati  #goddessoflearning  #templesofhampi  #bellarytemples
#saraswati temple in Bangalore   #saraswati temple near me  #saraswathi temple in bangalore
#saraswati temple in india   #saraswathi devi temple near me  #saraswati mandir near me
#famous saraswati temple in india   #basar saraswati mandir  #saraswati mandir basar
#basar saraswati images   #saraswati devi temple near me