Moreshwar or Mayureshwar is situated in Baramati taluka of Pune district and is held in highest reverence amongst the Ashtavinayak temples, Morgaon Ganpati.
This temple is the first to be visited and also the last to be re-visited to complete the pilgrimage.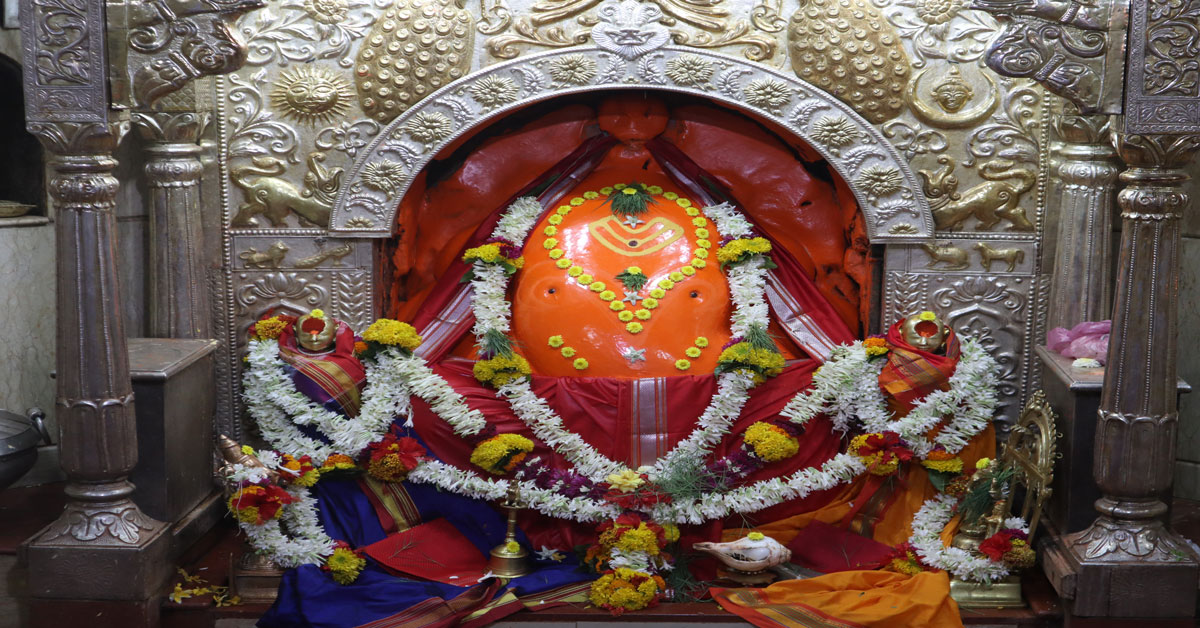 MORESHWAR GANAPATI TEMPLE, MORGAON
The location – Located about 60km away from Pune city along the Jejuri-Morgaon-Baramati road, this temple is easily accessible by travelling
southwards from Pune along the Pune-Pandharpur road via Saswad town. Road conditions are mostly good excepting for few rough patches.
The Morgaon village, on the banks of Karha river has got its name from its shape which is said to resemble a peacock, also it is said that at
one time there was an abundance of peacocks in the area.
 The legend – Hindu mythology mentions a powerful demon or asura called Sindhurasur who had wreaked havoc in the lives of Gods, saints and
humans. Unable to tolerate his atrocities any further, sage Parashar approached Lord Ganesha to intervene. At this spot Lord Ganesha had slayed
Sindhurasur. The original Ganapati idol is said to be made of atoms of sand, iron and diamonds and had been consecrated by Lord Brahma himself.
The Pandavas had enclosed it inside a copper sheet and it is placed behind the present idol. The Ganapati idol at this temple has its trunk turned
leftwards with an image of Nagaraja or a cobra guarding over it. Images of Riddhi and Siddhi, the two consorts of Ganesha are seen beside him.
The temple story – Interesting fact about this Morgaon Ganpati temple is its architecture which resembles a mosque with minarets. The temple has 4 gates,
representing Dharma, Artha, Kama & Moksha. The peculiar architecture was perhaps adopted to elude Muslim invasions which was quite
common at that time. Another possible reason can be the fact that the present temple was most likely constructed by a Hindu officer of the
Bahmani sultanate in Mughal architectural style. Inside the Morgaon Ganpati temple complex we see beautiful sculptures of Nandi, Mushak and the peacock who
is Ganesha's steed or vahana here. The walls and gates together give an image of a little fortress with the benevolent Mayureshwar sitting in the
centre of it all.
Things to do around here – The surroundings of the temple are peaceful and make a good spot for a day out with family. One very famous place
which can be visited from here is the Khandoba mandir at Jejuri. Jejuri is only 17km away from Morgaon and comes on the way when travelling
Also Read : THE MAHALAXMI TEMPLE |  THE SIDDHIVINAYAK TEMPLE