Mahakali devi temple of Secunderabad is one of the most important places of Shakti worship in Telengana. It is situated in the heart of
Secunderabad city and thus easily accessible by train as well as by road.
Temple story – The origin of this temple is related to the Mahakali or Hara Siddhi temple at Ujjain. Hara Siddhi Mata temple at Ujjain is a
Shaktipeetha where it is said that Sati's elbow fell. Its one of the very famous sites of Shakti worship.
The story of the temple at Secunderabad goes back to 1813 when a military battalion from this area was transferred to Ujjain. During that time, a
cholera outbreak had started which was causing the death of numerous people. A doli bearer called Suriti Appaiah was in that battalion and he
along with his associates visited the ujjaini mahakali temple at Ujjain and prayed to the Devi to cure the cholera outbreak and save his people, he also
made a promise that if his wish was granted then he would install the devi's idol at Secunderabad. Appaiah's prayer was granted and he went on
to establish the ujjaini Mahakali temple in July 1815. Originally the idol was made of wood and while constructing the temple, a stone idol was
discovered. This idol is known as Manikyalamma and was established alongside the Sri Mahakali Ammavaru idol. Later, in 1964 the wooden idol
was replaced with a stone idol which we see today.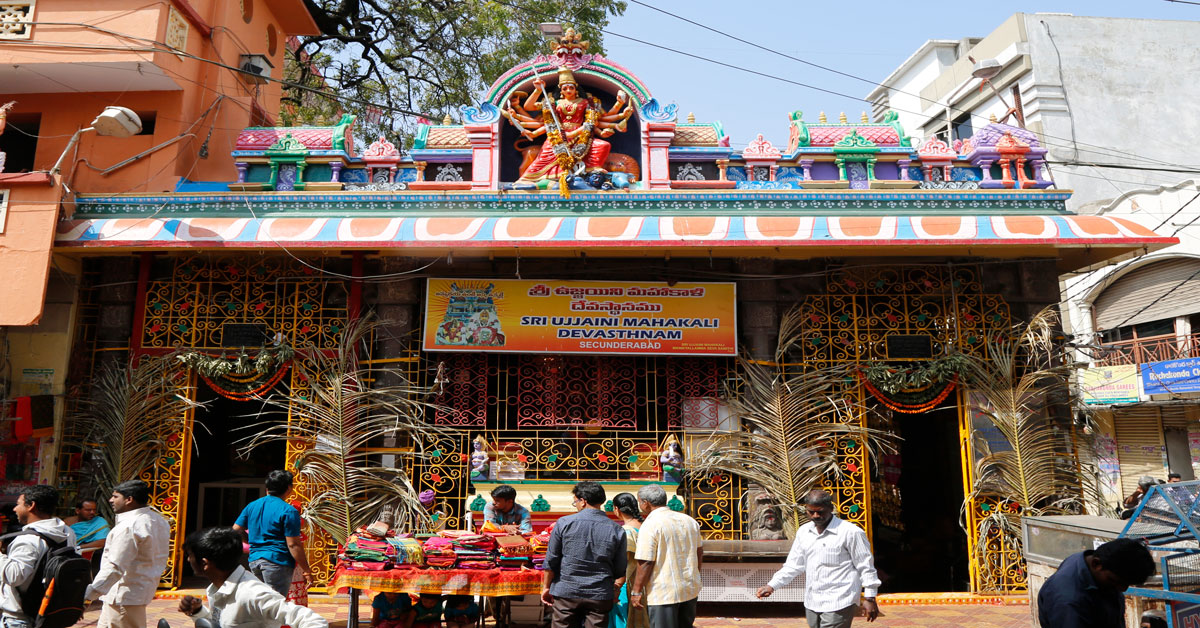 The idol of Mahakali is beautifully decorated with jewels, clothes and flowers and two of the most important festivals celebrated here are Ashada
Jathara and festival of Bonalu. Bonalu is a regional festival celebrated in Hyderabad and Secunderabad in the month of July/August in which
devotees express their gratitude to various forms of Mahakali for fulfilling their wishes.
Things to do around – Secunderabad and its adjacent city Hyderabad are popular tourist places in their own right. Some of the places worth
dropping in to are Secunderabad clock tower, Shamirpet lake, Pedamma temple, Paigah Palace, All Saint's church, Wargal Saraswati temple, Sri
Ganesha temple, Nagamma temple, Fox Sagar lake & Kandlakoya Oxygen park.
Apart from the tourist spots, Hyderabad and Secunderabad are renowned for their lip smacking cuisine. The famed Hyderbadi biryani, sheer khurma,
qubani ka meetha, double ka meetha and shahi tukra are not to be missed at all. The shopping scenario here is equally vibrant with items like
Hyderabadi pearls and lacquer items available in plenty. Finding accommodation here is quite easy owing to the abundance of budget friendly to 5
star or boutique hotels.
Also Read: POPULAR TEMPLES IN INDIA
      ——————————————————————————————————-         Tourist Facilities     ———————————————————————————————–
ATMs in SECUNDERABAD                        Restaurants in SECUNDERABAD           Nearest  Railway Station in SECUNDERABAD            Petrol Pumps in SECUNDERABAD
Travel Agents in SECUNDERABAD          Pharmacy in SECUNDERABAD             Hotels in SECUNDERABAD                    
Hospitals in SECUNDERABAD                 Nearest Airport in SECUNDERABAD       Lodges in SECUNDERABAD